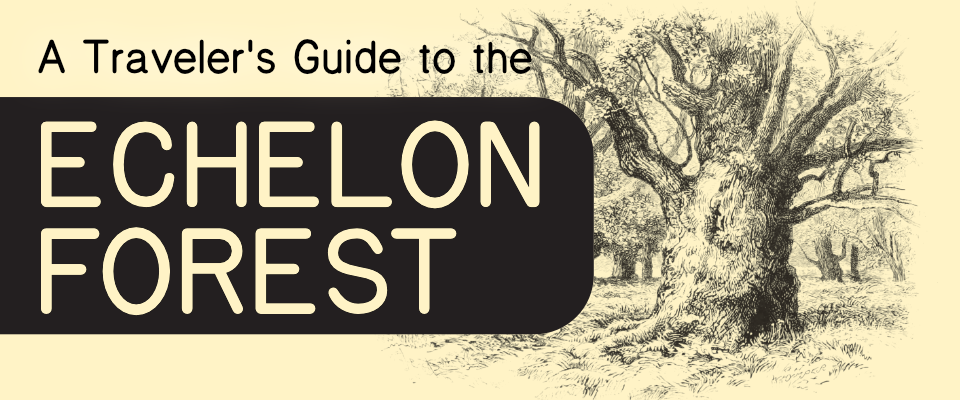 A Traveler's Guide to the Echelon Forest
A system agnostic die drop forest crawl.
Toss a handful of six sided dice onto a table to instantly generate a forest point crawl complete with features, paths, weather, and elevation. Each time the Echelon Forest is visited things will shift, new locations will be discovered, and old ones will be rearranged.
The Echelon Forest is a magical woods full of both mundane plants and animals along with more esoteric strangeness. It is not a place to battle creatures for wealth and valor, but instead an interesting place to visit and travel through.

Includes:
36 Unique Points of Interest
11 Different Path Types Between Locations
A Simple Travel Procedure for Exploring the Forest
A Simple Procedure to track Weather and Changes Within the Forest
Visuals Inspired By Park Guide Books and Vintage Travelogues
Art is public domain, with the exception of the dungeon map in the back which was drawn by https://brstf.itch.io/.

Thanks to Yochai Gal for formatting the "booklet" files for home printing. Print duplex, double-sided (flip short-side), landscape letter.

Download
Click download now to get access to the following files:
The Echelon Forest Spreads.pdf
18 MB
The Echelon Forest Singles.pdf
18 MB
The Echelon Forest BW Spreads.pdf
17 MB
The Echelon Forest BW Singles.pdf
17 MB
The Echelon Forest.md
15 kB
The Echelon Forest BW booklet.pdf
17 MB
The Echelon Forest booklet.pdf
18 MB